Patch Factory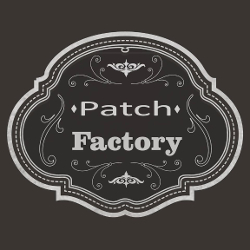 The PatchFactory is our creative zone in Kalindi-store.
We produce embroidered patches and we also make your custom patch.
In addition to that we also do embroidery on other stuff like t-hshirts, hoodies or pullovers and so on.
You can select either from our own selection of patches and embroidered work, or you even have an idea for a custom patch?
No problem, you send us your picture or your design through our contact form and we will do the patch for you.
Examples of our commissioned work You can watch on our Facebook page.
We embroider single pieces and small editions.
| | |
| --- | --- |
| Show 1 to 19 (of in total 19 products) | Sites: 1 |
Among other things, the symbol illustrates the inextricably interwoven and mutually dependent dualities of nature which together form a perfect unity.

from 6,00 EUR

( 19 % VAT incl. plus VAT incl. plus Shipping costs )

Shipping time: 3-4 Days*
In today's interpretation of the Triskele, the magic number 3, which has an important meaning in Celtic mythology, plays a large role.

6,00 EUR

( 19 % VAT incl. plus VAT incl. plus Shipping costs )

Shipping time: 3-4 Days*
The swastika is considered by some Hindus as Lord Ganesha, and is used by many in order to bring happiness and to create auspicious circumstances.

from 7,00 EUR

( 19 % VAT incl. plus VAT incl. plus Shipping costs )

Shipping time: 3-4 Days*
The Sudarshana Chakra is the weapon of Vishnu and Krishna. It protects the devotees and annihilated the demons.

from 7,00 EUR

( 19 % VAT incl. plus VAT incl. plus Shipping costs )

Shipping time: 3-4 Days*
"If this sign is carried, one will never lose one's way in storms or bad weather, even when the way is not known."

from 7,00 EUR

( 19 % VAT incl. plus VAT incl. plus Shipping costs )

Shipping time: 3-4 Days*
The Valknut is one of the most widely known symbols of Norse mythology.

Valknut means "knot of those fallen in battle" and is mostly associated with Wotan/Odin.

from 7,00 EUR

( 19 % VAT incl. plus VAT incl. plus Shipping costs )

Shipping time: 3-4 Days*
Jagannatha represents Krishna in ecstasy and is regarded as particularly merciful in this form.

Let yourself be infected by the ecstasy of Jagannatha.

Diameter: approx. 7cm

7,00 EUR

( 19 % VAT incl. plus VAT incl. plus Shipping costs )

Shipping time: 3-4 Days*
Diameter about 7-9 centimeter

White pattern on black ground.

fabric 100% cotton

thread 100% polyester

from 7,00 EUR

( 19 % VAT incl. plus VAT incl. plus Shipping costs )

Shipping time: 3-4 Days*
The 7 chakras are regarded as the main energy centers of the human body in various traditions of Hinduism and Bhuddism, combining the subtle and the gross body. The chakras are perpendicular to the spine, from the coccyx to the apex.

from 7,00 EUR

( 19 % VAT incl. plus VAT incl. plus Shipping costs )

Shipping time: 3-4 Days*
The om also called Aum or Omkara is the representation of the absolute spiritual truth in the form of sound vibration and one of the holiest, if not the holiest, symbols in Hinduism.

7,00 EUR

( 19 % VAT incl. plus VAT incl. plus Shipping costs )

Shipping time: 3-4 Days*
Ægishjálmr, the helm of Awe is one of the most mysterious and powerful symbols in Norse mythology.

This symbol is used to invoke awe and fear in an enemy and to gain sure victory over him.

from 7,00 EUR

( 19 % VAT incl. plus VAT incl. plus Shipping costs )

Shipping time: 3-4 Days*
The Sri Yantra represents the goddess in her form of Shri Lalita or Tripura Sundari, "the beauty of the three worlds" - Bhoo, Bhuva and Swa. (Earth, Atmosphere and Sky(heaven).

8,50 EUR

( 19 % VAT incl. plus VAT incl. plus Shipping costs )

Shipping time: 3-4 Days*
| | |
| --- | --- |
| Show 1 to 19 (of in total 19 products) | Sites: 1 |